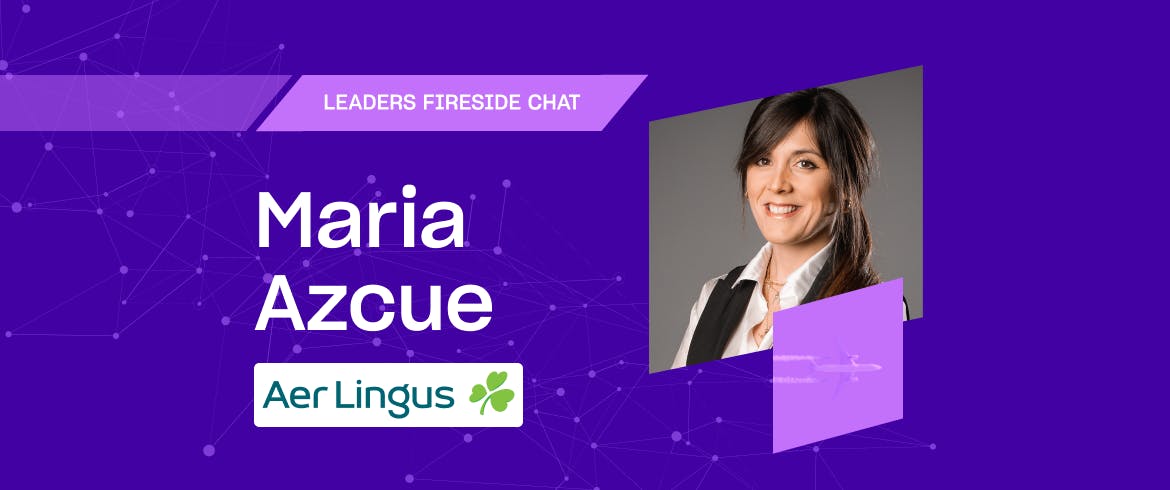 The aviation industry is enduring challenging times but is also presented with tremendous possibilities to create a positive change.
This interview is part of the eBook "Women In Leadership: A Qualitative Review Of Aviation Industry Challenges, Experiences, And Strategies," which showcases some of the best leaders in aviation. To download this complimentary eBook, click here. 
In our latest Women in Aviation interview, we were joined by Maria Azcue, Head of Transformation at Aer Lingus. She is responsible for leading the transformational change from inception to delivery for the Maintenance and Engineering department.
Before joining Aer Lingus, Maria worked at IAG, where she held various roles in maintenance strategy and operations. She offers up sage advice for women interested in aviation and gives her thoughts on the digital future of aviation.
What was your path to the aviation industry, and what advice would you give aspiring young women who want to break into the aviation industry?
I studied engineering and business in university because I wasn't sure which route I wanted to take and I was interested in exploring both fields. 
When I finished my university studies, I decided, "Okay. I'm going to join a consultancy firm to have a better understanding of the many industries and the different companies out there." 
That's when I had the opportunity to work for IAG on the IAG Maintenance Strategy project. During that time, I discovered that aviation was my passion and I made the decision to join IAG. 
I would tell all women aspiring to be in the aviation industry to believe in themselves. There is nothing more powerful than a champion mindset. I recently heard a quote from Liam Sheedy that I like a lot and it has really stuck with me. "Whether you think you can, or think you can't, you are right".
What male-to-female ratio are you seeing today in your operation?
Maintenance and engineering have always been predominantly male-led areas. But it is very impressive seeing how we are slowly moving the dial on that ratio. Last year we had our first female graduate engineer joining the engineering team, and I am enthusiastic to say that several more will be joining us in the following months. It is fantastic to see female representation increasing in our apprenticeship program. 
Aer Lingus and IAG, our parent company, foster a lot of diversity. We, as a Group, have extended our gender diversity commitment to have 40% women at the senior management level by 2025, after reaching in 2021 the previous ambition of 33% BY 2025. 
How has COVID-19 impacted your career?
I can't say that I wasn't afraid at the time. The level of uncertainty was huge. We didn't know what was going to happen, if we were going to be able to recover or not, or how the "new normal" was going to be, but I think all big challenges come with big opportunities. 
That was the case for me in mid-2021 when I got the opportunity to join Aer Lingus. I am thrilled and very proud about what we are doing here with our transformation programme, looking forward to building the future at Aer Lingus by always evolving.
Did you/do you have any mentors or women you look up to? 
A mentoring program was something that, during the pandemic, was put on hold. This is something that we want to relaunch here at Aer Lingus and IAG. Here at Aer Lingus, we have strong and inspiring female leaders, our CEO, Lynne Embleton, CFO, Elizabeth Haun and CCO, Susanne Carberry.
The best way to promote something is by demonstrating that it's achievable. Having women in leadership roles is encouraging for me and my colleagues. 
In my case, my current mentor is male and also believes that diversity and inclusion have a key role to play in the aviation industry. My mentor always empowers me, gives me opportunities, and makes me believe I can achieve them. 
What's your favorite part about being in aviation?
Aviation is an amazingly exciting industry and that is something I can feel every week when I fly. I can see how we make it possible to connect people, places and possibilities, whether it's a holiday, business travel, or visiting loved ones. It's special when you feel you are part of the journey for the customers — it is extremely rewarding. 
What's one thing you would change about the aviation industry as a whole?
Something that we need to improve is the speed and our ability to adopt new technologies. Possibilities are countless, but it is on us to adopt them in a more agile way. We can't continue doing what we were doing in 2019 before the pandemic.
If we want to be better, we need to take advantage of every opportunity available. Whether it is aircraft new technologies, machine learning, digitalization; they all drive operational efficiencies and ultimately customer satisfaction. But the speed of technological adoption is not as high as I would like that to be.
Where do you see the industry in 10 years?
The direction is clear. We need sustainable aviation. A study I recently read shows that 80% of passengers want to have a sustainable alternative, but this is currently not an option. The whole industry needs to work together to make that happen.
IAG has been the first worldwide airline group committed to net-zero emissions by 2035. We see this as an opportunity. That's the future of aviation, but not only airlines should be working to achieve this. 
There are so many things we need to do. For instance, as of today, even if we wanted, we couldn't fly SAF (sustainable aviation fuel) in all our flights because the availability is limited. We need everyone to push for that; governments, OEMs, airlines, all of us.
What is your take on digitalization? 
As I previously said, it's essential that we adopt new digital technologies. The opportunities are out there: machine learning, artificial intelligence, digitalization, all of that. That's something that we must leverage.
At Aer Lingus, this is a key pillar of our transformation plan. We have a number of key initiatives. To give a couple of examples, we are digitalizing our inventory management and we are looking for predictive maintenance solutions. This is part of what we look forward to here at Aer Lingus.
Do you see opportunities for supply chain improvement that can help an airline meet its goals?  
One of the biggest issues we are having is the lack of availability of parts due to the shortage of raw materials. Our whole industry is suffering. In terms of being more efficient, tools like SkySelect, in this case, can contribute materially and bring benefits for us, airlines or MROs.
Increasing the visibility of our supply chain, identifying pain points, and increasing our network of suppliers to ultimately reduce the reaction time of shortages add big value to our supply chain. 
Particularly in the last year, we have been struggling a lot with getting parts and getting parts on time. This has led to us increasing our ground times. Our end goal is to have our aircraft in the air, flying, that's why having the parts on time is critical. And we have to be fast in adopting tools like SkySelect in our processes.  
Do you have any suggestions or thoughts you'd like to share with the industry?
As I have mentioned, we have a big challenge ahead but also an exciting journey. We all need to make sure we can make use of all of what's out there. Digitalization and sustainability are the future, and we must push hard for that. 
From a more social point of view, we all must commit to achieving the highest diversity standards. Let's make our industry one that is diverse and inclusive for all.
[E-BOOK DOWNLOAD] WOMEN IN LEADERSHIP
A Qualitative Review Of Aviation Industry Challenges, Experiences, And Strategies
This study showcases some of the best leaders in the aviation industry and explores their take on the state of the industry, their personal experiences, and what the future holds for aviation.