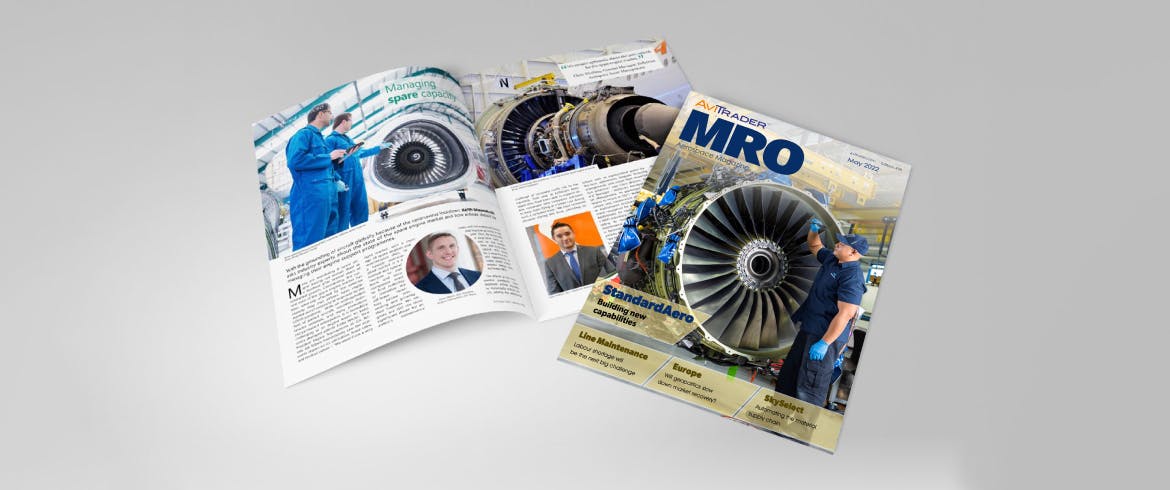 New processes and technologies enabling airlines to digitise and automate material purchases are coming to the foray, and ever more critical, as airlines bounce back to operations. Keith Mwanalushi gets the lowdown from Erkki Brakmann, CEO and Founder at SkySelect.
As featured in AviTrader MRO Aerospace Magazine May 2022 issue.
Material purchasing by airlines and MROs is undergoing a technological revolution with start-ups like SkySelect stepping on the scene in 2017 with a clear mission to connect aircraft material buyers and suppliers through touchless transactions. The aim, according to the tech-company is to make the commercial aviation sector leaner by building a world-class aircraft material supply chain. 
In April, SkySelect unveiled its eProcurement-as-a-Service (ePaaS) platform for aircraft material as a solution to what is often an offline, slow and inefficient MRO supply chain. ePaaS remedies these problems by bringing in greater supply chain visibility, eliminating capacity constraints, automating previously manual and tedious tasks, and reducing excessive costs. 
Erkki Brakmann, CEO and Founder at SkySelect discussed with AviTrader MRO about the implementation process for airlines or MROs looking to adopt the ePaaS platform and dismissed the industry mindset that implementation (and digitalisation overall) is complex and time-consuming. To demystify this belief and show the value of ePaaS, SkySelect has introduced a two-month complimentary risk-free pilot to make this transition and onboarding process as easy as possible. – "In reality, it takes airlines and MROs around four hours to kick off the pilot," he said.
"Once we have shown the value of the ePaaS pilot, we sign a long-term agreement, and in parallel to managing the airline's day-to-day purchasing, we start working on the fully integrated process flow at no extra cost to the user," Brakmann explains. SkySelect, relies on its proprietary and customisable plugin to establish a link with the client's maintenance information system to replace manual tasks with automated business rules. The typical implementation time is about two months, he reports. 
SkySelect suggest that adopters of its platform are seeing up to 20% price savings and 90% automated purchasing and it is interesting to see how this plays out for instance with some aircraft materials seeing fluctuations in material prices, like a rise in materials currently for the CFM56 engines. "Airlines and MROs typically have their material plans made six to 12 months prior to the expected requirements, or even further out," Brakmann responds. He says they also forecast, and schedule funding required based on such plans. "The purchasing algorithms of the SkySelect platform make it easy to track on a single dashboard the budget against the actuals to spot when it is the right time to buy more or less. 
"Depending on the market fluctuations and changing requirements the available option can significantly differ from the budget. There will likely be an opportunity to buy the material at as good or better terms, which has often been the case with a large group of materials, especially during the COVID times," he adds. 
Brakmann suggests that at times, its advantageous to have long-term contracts with the supplier of choice by fixing terms – "and sometimes it is better to acquire the material from the spot market when the airline or MRO actually needs the part. Technology gives the airline the flexibility to do both to achieve the best result." 
The tag line at SkySelect is that today's procurement is 100% digital and is pushing the industry to unlock unlimited capacity with an ePaaS solution but not all airlines are going with the movement with some certainly holding back. Brakmann is adamant that, airlines and MROs have accepted that digitalisation is the way to solve capacity issues and make existing processes more efficient. 
"However, some of them do not know how to start and how much effort is involved in modernising their operation, so they are held back. To address their concerns, we introduced ePaaS which offers smooth and easy onboarding to achieve their digitalisation goals. Our two-month pilot shows them tangible value and gives them peace of mind to continue implementing a fully digitised procurement." 
Additionally, Brakmann points out that some airlines are hesitant in discontinuing old processes until the technology has fully proved its value. "With ePaaS, our customers do not need to deprecate existing systems and processes. The platform can offer material buyers additional capacity in parallel, allowing staff to focus on strategic tasks. Our users are not required to unplug old processes until they are ready to become fully digital." 
Also, airlines and MROs are constrained for labour and sometimes struggle with technology adoption, but so far SkySelect reports positive feedback from users of the new platform. 
Brakmann stressing that the ePaaS platform provides tangible results for airlines and MROs by eliminating the exact pain points those users have been experiencing. "It's our ambition to enable functional excellence in the entire supply chain and create a better air travel ecosystem for everyone involved, from the MROs and airlines down to the passengers."
Read the latest AviTrader MRO Aerospace Magazine here.