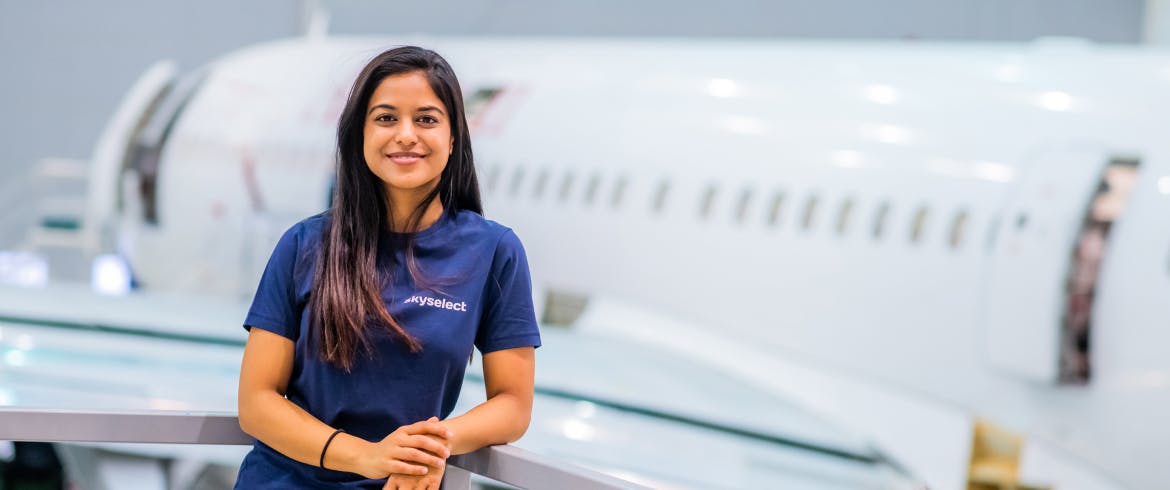 SkySelect is the modern Aviation Company that solves procurement problems for the $100B aircraft material industry through an algorithmic purchasing system.
As featured in the MRO Business Today's August 2022 issue.
SkySelect was founded in 2017 by young minds of the aviation with a clear mission to connect aircraft material buyers and suppliers through digital transactions and make the commercial aviation leaner by building a world-class aircraft material supply chain. SkySelect is a fast-growing company backed by top tier investors from Silicon Valley such as Bain Capital Ventures, Lux Capital, and Initialized Capital.
The people at SkySelect would like to define it as an idea that disrupted the status quo by challenging the same old choice-making and made the market more accessible, faster, and safer for everyone. MRO Business Today in a conversation with one of the young entrepreneurs that shaped SkySelect and carved out an identity for themselves in the male-driven industry the Co-founder and Head of Operations at SkySelect, Tulika Dayal.
Q – As the Co-founder of SkySelect, Can you tell us how did this idea of a platform for bridging a gap between the buyers and the manufacturers came forth. And what was the process?
I have always been passionate about bringing efficiency to the Procurement and Supply Chain operations in the B2B industry and have been obsessed with driving digitization of very manual and archaic processes to help businesses stay competitive and agile with  evolving business conditions. Digitization is the need of the hour in every business unit and function for the B2B industry. It's not in the future; the time is now!
We acquired aviation customers in our previous venture and got first-hand experience of the challenges of Aviation MRO procurement operations. I was surprised by how manual and painful the procurement operations are in Aviation; it's like the 70s, with paper, phone calls and emails. And the stress levels are pretty high for aviation operations because if you do not have the right part on time, the aircraft can get grounded, causing massive losses for airlines and customer dissatisfaction.
For any entrepreneur, it's important to be empathetic, and at the core, we care about making people's work experiences better, hence it was compelling to go and start building a technology solution in the Aviation MRO supply chain. Even before we had a product, LATAM was our first customer and we scaled very quickly. We could feel that we are helping people and the Procurement departments, and that was a good feeling to have.
Q – What would you like to comment about the contributions and achievements made by SkySelect in such a short span of time in the Aviation industry?
SkySelect is all about challenging the status quo and infusing innovation into aviation. We work closely with airlines and MROs, constantly listening to new ideas. Our number one achievement is our satisfied customers and employees. SkySelect has received very positive feedback from its global customer base, including Azul, Iberia, Finnair, Vueling, TAP Air Portugal, JetBlue, and many others. Adopters of SkySelect's platform are experiencing up to 20% price savings and up to 90% automated purchasing. Material buyers can now do 100x more and unlock savings with the support of artificial intelligence.
Because every organization is different, and we want our customers to feel comfortable with new technology, SkySelect always offers a risk-free pilot. This pilot shows the immediate value and creates a strong business case. Customers are not required to unplug old processes until they are ready to digitize completely.
Our people are behind our success and are motivated and experienced to take this industry to the next level. We feel like we are on a mission, where both our customers and our employees are constantly contributing to new product features and suggestions that leads us to a lot of innovation. Nothing is built at SkySelect in silos, almost every feature is a contribution of great ideas from our users, and we have a lot of fun building the solution that our customers love.
Q – Can you tell us about SkySelect's current solutions to the Aviation industry?
In 2021 during COVID, because we like to stay close to the voice of the customers, SkySelect spoke to over 30+ airlines and 150 suppliers and identified four challenges within the MRO supply chain: Poor Supply Chain Visibility, Capacity Constraints, Time Spent on Manual Tasks, and Excessive Costs. There are completely new business dynamics, supply chain and production timelines are impacted, lead times are ever unreliable, fuel prices have made the cost of doing business more expensive for airlines, as well as workforce shortages, are all top of mind for the executives.
Airlines have realized that they can overcome these challenges by digitizing and automating low-value tasks and working with vendors to add capacity and free up working capital. By adjusting their business models and optimizing MRO activities such as parts purchasing, they can dedicate themselves to customer acquisition and experience and focus on their core business of transporting people from A to B.
Change management is often complex and slow, especially given the current labor crunch.
To address pain points and concerns for both airlines and suppliers, SkySelect developed a new eProcurement-as-a-Service (ePaaS) offering. The ePaaS technology platform for aircraft material combines experts and technology to enable airlines to digitize and automate material purchasing for leaner and more asset-light operations. The advantage of this approach is that it overcomes the adoption problem, and an airline or MRO can basically transform their supply chain overnight instead of in 6-12 months that it typically takes to implement a new technology or platform. Secondly, they get instant access to AI, Big Data, and Cloud to enhance the visibility of their supply chain.
Q – What are SkySelect's plans of expansion in the near future?
For us, "the Sky is the limit" – we want to make the aircraft material market more accessible, faster, and safer for all airlines, MROs, lessor and suppliers. We are anticipating rapid deployment of ePaaS solutions across the globe that will show organizations immediate ROIs, better access to data, and the knowledge that machine learning and AI can bring.
SkySelect in this value chain transforms supplier-buyer relationships into a value network. Suppliers will become specialized partners who cooperate as 'best-of-breed' in a data-driven ecosystem. Growth for the buyer represents growth for the "on-demand" business process partner. This highlights the direct goal alignment between supplier and buyer in the value network.
Our future goals include expanding to other MRO industries as well, which is a pretty big untapped market ($650B+) struggling from similar challenges.
Q – Can you explain how the AI algorithm that works for the purchase of plane parts on the platform?
The advantage of AI-based purchasing combined with real-time data is that it does not have any limitations – it runs 24 / 7 and it can crunch hundreds of maintenance requirements simultaneously in a matter of seconds. This cuts the purchasing cycle times from days or weeks to minutes allowing airlines to run more lean and efficient operations. AI purchasing empowers people to spend their time where it really matters by freeing them up from manual data entry work and finding true meaning in their work.
The AI finds the best options available based on the need by dates of the maintenance requirements. We highlight the risk areas showing how far the maintenance requirements are in the supply chain, i.e., green if the supplier has the part in stock, orange if there is a lead time, etc. The platform constantly monitors the open orders and if a risk is identified (i.e. something has not been shipped on time) our expert supporting the customer gets involved to find a proper solution.
​​SkySelect's e-Procurement-as-a-Service platform has data that allows buyers and suppliers to make strategic decisions. For improved maintenance planning, aircraft parts buyers have access to all the relevant data to see the lead time, pricing options, condition, and location, are there any alternative (interchangeable) parts to consider. Suppliers can easily connect to the demand to better plan their operations and support customers.
Additionally, the platform allows organizations to reach their sustainable development targets by consolidating and reducing their carbon footprint. The AI combines shipments, simplifies logistics, and minimizes the number of shipments.
Q – As a woman entrepreneur, you have carved a niche in the Aviation sector and it is a definitely an encouragement for other women to take a plunge in the entrepreneurship and business management? Your advice and comments?
It takes confidence and courage to see opportunities and seize them. As a colored woman, I definitely had my fears and doubts but I saw more possibilities out there. When you do not have a lot of examples for role models for colored immigrant women in Business Leadership positions, Board Executives, and Entrepreneurs, it can be quite intimidating. However, I allowed myself to trust the opportunity and really believe that this problem needs to be solved. The industry is very supportive, and I have only received support and been seen as an equal by every person in the Tech as well as Aviation Industry. Don't underestimate the power of your ideas and skills. Today, the industry has its challenges, more than ever, and there are so many opportunities where you can add value and do good for yourself and for the industry.
I believe we all have equal opportunities in the aviation industry – no matter if you are a man or a woman or your ethnic background. It all starts with believing that "the only limit is you."
You will always achieve more and go further if you trust, listen and empower your colleagues. Every entrepreneur and manager needs people who believe in you. My advice for young women is to invest in their knowledge, skills and to not hesitate to reach out to other women for support, guidance and mentorship. Always uplift others, and be a positive force in the world, and positive things will follow.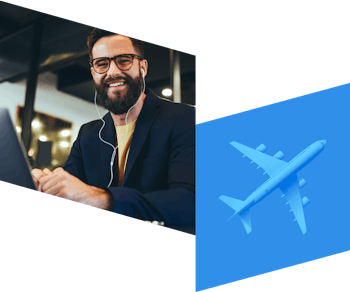 [EBOOK] HOW TO EFFECTIVELY LEVERAGE TECHNOLOGY IN MRO SUPPLY CHAIN
Four Pain Points in the Aviation Industry Supply Chain & How to Solve Them.
This eBook lays out the four major pain points challenging the MRO Supply Chain and provides the blueprint for how to harness technology to purchase aircraft material efficiently.