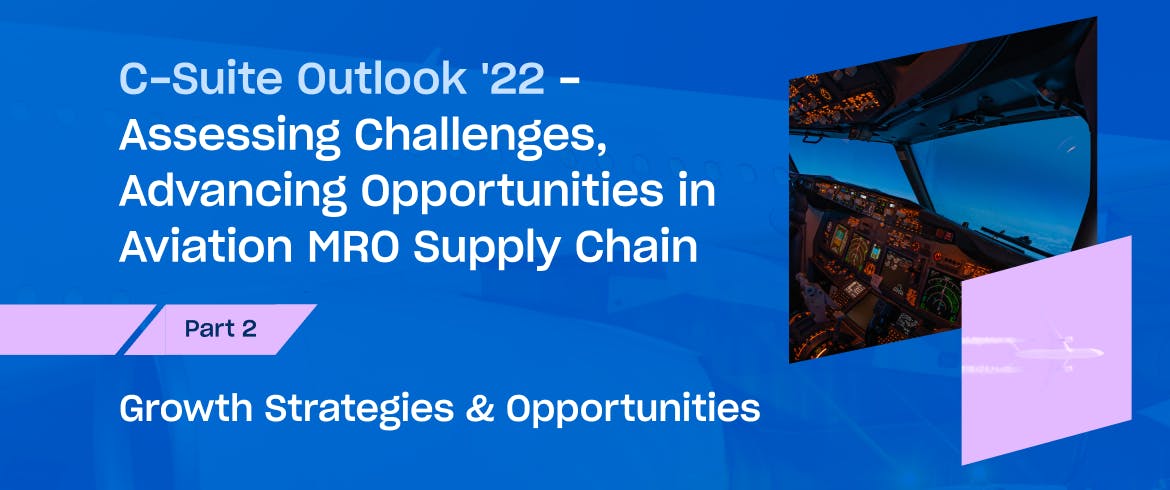 Part 2: Growth Opportunities & Leveraging Technology
Who better to hear from than those with the eagle-eye view from the top? That's why we recently held a webinar featuring C-level executives, which dove into the MRO supply chain. If you missed out on the webinar, no worries! You can re-watch it and get the abridged version right here.
In this second part, we'll give you the highlights from the topics of opportunities and leveraging technology.
In case you missed it, you can read part one here. 
Growth Strategies & Opportunities for Airlines
As we outlined in part 1, we're currently in the midst of very challenging times, not just within aviation but globally. We are dealing with rising costs and a possible global recession; however, even in the most daunting of times lies opportunities if you know where and how to seize them. This is the same for the current aviation landscape.  
During these times, it's common for people and organizations to narrow their focus to what is most important and what they do best. "What I see is airlines going back to their core - their core markets and their core segments," said Iván Vallejo González, Director of Strategy and Supply Chain at Iberia.
Of course, the focus will be on driving down costs and areas of the business that will drive revenue. One way in which airlines can lower costs is by utilizing pools. 
"Rather than multiple airlines maintaining large and expensive inventories with significant redundancies, a single pool provider – whether it's the airline with the largest facility at a specific airport or a 3rd party owning and managing the parts could provide cumulatively better service to all the airlines on the field at less cost by reducing duplication and expanding the overall portfolio of assets," said Patrick Coval, Innovation & Product Development Design, SkyThread, and former Managing Director - Tech Ops Supply Chain at United Airlines.
But pooling goes beyond simply cutting costs for airlines; the strategy can also be its growth strategy. "Money that does not go into inventory can be used for other things such as buying or leasing more aircraft, hiring more staff, or opening more destinations," said Coval. 
Overall the industry can benefit immensely from consolidating asset management and collectively coming together to gain more accurate insights. "The biggest benefit coming from consolidation is instead of dozens of disparate operators seeing demand and collecting data in such small numbers that nothing can really be deciphered from the removals and on-wing failures, we have a few points of demand with enough useful data to provide valid information that can be used to improve the reliability of the components," Coval added. 
How Airlines Can Effectively Leverage Technology
One of the best ways to seize opportunities that lies ahead and to grow is by deploying technology and digitizing old processes. "Perhaps the easiest approach to leveraging technology in the MRO supply chain comes from the use of Business Process Automation (BPA)," said Coval. "At an airline I was at a few years ago, we automated the activity to evaluate whether we needed to repair a rotable when it was removed. The bottom line for us was that after automating this evaluation process, we saved about $4 million dollars the first year."
This is just one of many examples of how airlines can leverage technology in the MRO supply chain to save money and work more efficiently. "There's a lot of things that can be done, even on an individual basis. For example, we've launched our own machine learning (ML)team and our own artificial intelligence (AI) team to predict demand based on production plans," said González. "This will help us forecast a lot of repairs and maintenance. Look, supply A, B, and C — I'm gonna need these throughout the year. Please be aware. Get ready."
These are just a few of many examples of where technology can improve the supply chain and overall MRO efforts of airlines. While the exact strategy and tactics can be debated, one thing is certain — technology is the way forward!
"I really honestly think that technology can help so much and help all parties", said Gonzalez. "I even think that it should be a free-of-charge type of service to understand the shareholder demand, and the inventories, and the capacity to understand what is better to remove, manage or not."
Coval completely agrees and sees technology as a no-brainer to invest in because the ROI is so high. "As far as investing in technology in the supply chain, I think you get 10X back very easily, you know? So if you put $100,000 into technology, you'll get $1 million back, said Coval. "And you're probably more likely, you know, going to have a 20x multiplier in that."
Learn more about how you can automate up to 90% of purchasing and achieve up to 20% cost savings from day one.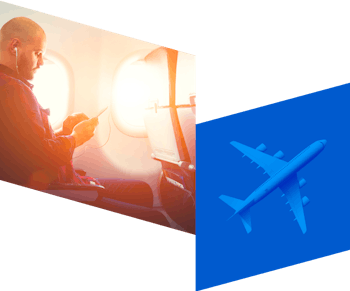 [VIDEO] MRO SUPPLY CHAIN STRATEGIES FOR 2022 REVEALED
Watch on-demand: How to effectively leverage technology in MRO Supply Chain
This on-demand video recording explores MRO supply chain challenges, market drivers, and growth strategies.