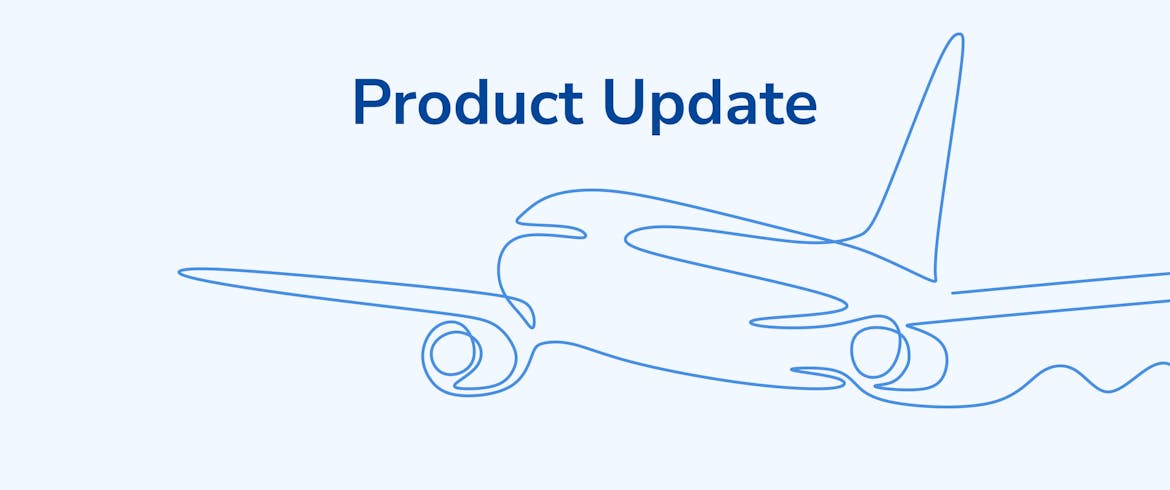 Aircraft parts buyers can now benefit from more automation and analytics, including sourcing automation and supplier performance highlights.
By SkySelect Product
Some of our features at a glance:
Sourcing Automation can now import & source your requisitions automatically
You can now see Supplier Performance live in-RFQ & Improved Analytics
Best Sorting helps you find the best value by blending price, speed & condition
We've merged all purchasing templates into a new Outright Purchase template
Full SPEC2000 Orders support
And more!
Ready to learn more?
SkySelect is largely focused on helping customers to automate the sourcing and ordering processes. We significantly improved our SPEC2000 capabilities, built new integrations, and made several user experience improvements. Major additions were also made to the Analytics module.
​
Sourcing Automation ⚙️
Automate the RFQ process end to end. Link your ERP with SkySelect and generate RFQs automatically based on requisitions. Start collecting the quotes immediately from automated sources.

Contact us at import@skyselect.com to start automating your sourcing process 💻
Improvements to Analytics 📊
We've redesigned our analytics module to give you better insights and control into your spending, suppliers, and operation as a whole!
Filtering based on buyers, RFQ priority and PO type
Understand your usage, supplier behavior & cost savings
Get richer, more complete & descriptive data in improved CSV export files
​​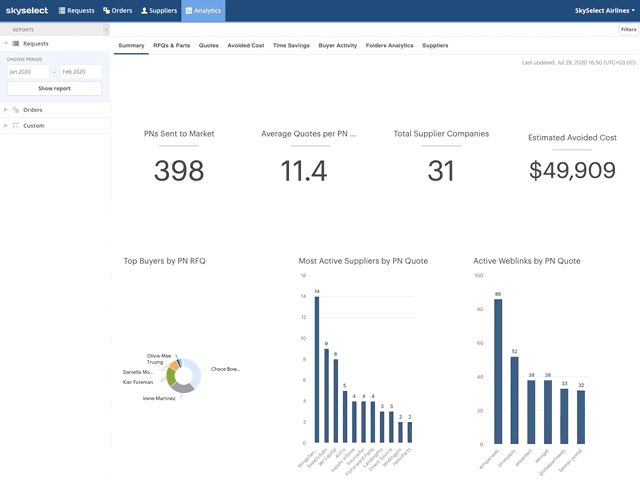 Best Recommendation & Quotes Sorting🔺🔻
You can sort incoming quotes based on price, lead time, or use our algorithm to find optimal quotes based on a special mix of price, speed & condition!
​​

Catalogs & Contracts in SkySelect📒
You can now instantly see quotes from catalogs uploaded by suppliers in new RFQ via SkySelect Hosted Catalogs.
Reach out to the supplier using messaging to confirm the details and paperwork on the catalog quote.

​​SPEC2000 Ordering ⚙️
SkySelect now has full support for order transmission and management via SPEC2000 including the following messages:
Order Transmission and Acknowledgement
Order Changes
Shipment Notifications
Invoices
Contact us to automate your ordering process through SkySelect and SPEC2000. Get in touch with our team@skyselect.com to get started. 💻
General Improvements ✈️
We are streamlining the sourcing process by allowing adding different part types in one RFQ and improving compliance with industry standards.
Outright Purchase template: We've merged the C&E, Rotables, and Chemicals template into a new, easier-to-use, single template for purchasing 📑.
WSP (Work Stoppage) priority is now supported 🛑
Extended support for industry-standard UOMs and conditions
Your filters preferences on the RFQ Dashboard are now always saved. Set up the filters to fit the dashboard to your needs.
RFQ dashboard now shows part numbers below the RFQ title to help quickly identify the requests.
Addition of tooltips and emphasized lead time in Quotes Summary view.
Visual improvements to the quotes comparison excel report.
Recommendation Engine Algorithm was improved to make sure we reach out to the supplier contacts most relevant for your account.
Thank you for using SkySelect!
Do you lack a certain feature in the product? Or do you want to point to a problem or a bug? At SkySelect we welcome all feedback! Feel free to reach out to us by replying to this message, or contacting us via email.