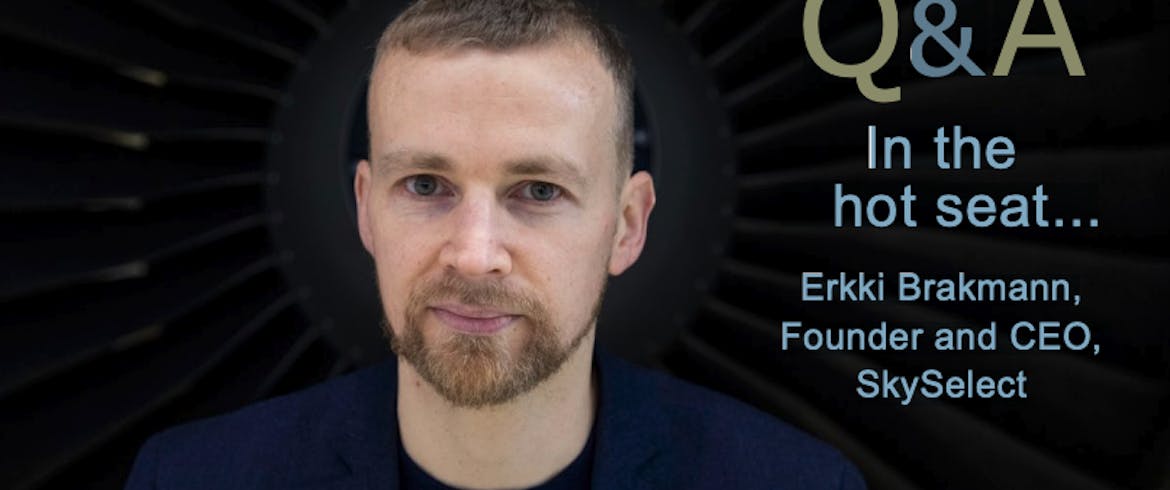 Our CEO Erkki Brakmann recently took to the AviTrader hot seat to speak about all things SkySelect and his thoughts on the industry.
You can view the entire issue here. Erkki's interview starts on page 23.
What attracted you to this industry? 
What attracted me to this industry was the tremendous opportunity that exists to improve the entire ecosystem from airlines, MROs and suppliers to the end passenger. There is so much we can do to improve the aviation supply chain. 
The way buyers are used to purchasing parts was perfectly suited for the 1970s, but that world no longer exists. However, buyers are still stuck with manual and time-consuming processes run by emails, spreadsheets, phone calls and sometimes even fax machines. Confounding those issues is the market is extremely fragmented and constantly changing. 
The aircraft material market is attractive to me because of the size and the amount of waste that is created because of inefficiencies. Every year $40B worth of aircraft material gets bought and up to ⅕  is estimated to be a waste because of the industry's overall inefficiencies.
This has led to overproduction, mismatch and excess in inventories, extra shipping costs and avoidable operational disruptions which all add up.
All of this is what energizes me and excites me about what we are achieving at SkySelect. We are truly making a difference by bringing greater efficiency to a process and industry that so desperately needs it. 
Our goal at SkySelect  is to help  make commercial aviation leaner by building a world-class aircraft material supply chain using the latest technology to automate the majority of the purchasing decisions.
What does a typical day involve in your role?
We're a rapidly growing team so we pride ourselves on our agility and ability to move quickly. That also includes myself as the CEO. I find myself involved in everything from product development and sales to hiring and customer success. What I enjoy the most is connecting with the best minds in the industry whether they are at the airlines, MROs, OEMs or suppliers, understanding what is top of mind for them, identifying patterns and translating that back into innovative solutions to drive transformation.

Although it sounds cliche, no two days are truly the same for me, and that's what excites me about my job and this industry - it's constantly evolving. 
Briefly, tell us about your current solutions for the aviation industry?
SkySelect is an automated purchasing system for aircraft parts using algorithms and machine intelligence to automate over 90% of the purchasing operations. Our mission is to connect aircraft material buyers and suppliers through touchless transactions and make the commercial aviation industry leaner by building a world class aircraft material supply chain.
We partner with airlines and MROs to implement a reliable and efficient 24/7 purchasing process that eliminates 30-50% of the manual effort and cuts the purchasing turnaround times from days to minutes on most purchases. SkySelect does this by identifying the best options available that meet the buyer's business requirements and consolidating the purchases into PO by optimizing for the lowest overall cost. This allows buyers to truly focus on purchasing and relationship building with suppliers, instead of constantly hunting and following up.
The  algorithms and machine intelligence unlock savings thanks to sophisticated computing power. SkySelect eliminates waste and allows airlines to take a major step towards just-in-time inventory management by carrying less inventory, reducing AOGs and optimizing shipping costs.
What impact has the pandemic had on the business?
As it's been well documented, the pandemic has been a very challenging time for the entire aviation industry. However, a silver lining can always be found. With air travel demand down and airlines having to think out-of-the-box on how to build more sustainable processes, we found that it opened airlines up to try new technology and processes. Combining that with the fact that airlines have also been tasked with doing more with less, created a real opportunity for us to showcase our platform, as it helps airlines and MROs make their parts purchasing process more efficient and easier to scale up and down, compared to having to constantly balance labor resources. 
In what way can airlines streamline their parts purchasing with SkySelect?
In an ideal scenario as many orders as possible should be flowing automatically. This means from the moment when the part requirement is identified, for example by the mechanic, until the moment of delivery. In order to achieve this, the supply chain needs to be much better connected than it is today. 
Technically SkySelect acts as an API that allows airlines to connect their demand in real-time with the external suppliers and vice versa. On top of that, based on the airline's business rules, the algorithms enable airlines to automate the following purchasing operations.
1. Eliminate sourcing. You save time while identifying the best saving opportunities 
Connect their ERP via a smart plugin. .
Find the best options available automatically..
Identify the viable options that meet your needs.
2. Create Orders Easily. You can review options yourself or set it to award automatically
See recommendations based on cost, lead time , condition, location etc
Or let the system create orders with smart rules
Consolidate purchases automatically into orders by optimizing for the lowest overall cost
3. Oversee orders through delivery. SkySelect follows up automatically to keep deliveries on time
Prioritize orders in smart queues
Manage follow-up and order exceptions
Communicate with suppliers in real-time
Tell us about your recent contract with Azul?
Azul Linhas Aéreas and SkySelect have been working closely together to transform their aircraft parts purchasing process. Leveraging our advanced aviation material purchasing system powered by algorithms and machine intelligence, Azul Linhas Aéreas has restructured its parts purchasing and tracking, bringing greater efficiency to its aircraft maintenance processes, saving the carrier both time and money. Given the size and scale of the carrier's operations (as one of the largest airlines in South America), it's imperative to have a parts purchasing system and service that's transparent, trusted and scalable.
We also most recently announced S7 Technics as a customer. We're collaborating to promote the  accelerated transformation of the parts purchasing process for S7 Technics' air transportation and maintenance operations.Like Azul, S7's size and scale excites us as it provides an exceptional opportunity to demonstrate the power of our technology and services.
What key trend are you seeing with inventories since the pandemic started?
Pre-Covid, there was a shortage of both feedstock and supply of USM. In 2020 there were a lot more aircraft retired compared to recent years, which means a lot of extract parts from these aircraft can be used to repair active aircraft.
According to consultancy McKinsey & Company, in the years before Covid-19, aircraft OEMs ramped up production in anticipation of continued growth, increasing aircraft availability. Furthermore, some carriers have returned relatively new aircraft to lessors.
This influx of aircraft inventory coupled with a sharp decline in demand due to a significant reduction in flying has resulted in an unprecedented amount of aircraft and aircraft parts supply.
These new market developments have created a huge opportunity for MROs and airlines to leverage the surplus of parts to sharply reduce material costs. However, capturing these opportunities can be challenging as purchasing is manual and headcounts have been sharply reduced — that is where automation can really help to drive savings. 
What is next in the pipeline at SkySelect?
Growth is happening in four key areas:
Product: As always, we'll be adding more features and enhancements to our software for both buyers and suppliers, to bring even greater value to the aircraft supply chain. 
Customers: We have a number of very existing customers we have yet to publicly announce, while several others are very close to signing. 
Partnerships: We're working on finalizing strategic partnerships with well known and respected companies in the industry. 
Team: We continue to scale our team by acquiring not just more talent, but  top talent from across the globe from the Americas all the way to Asia.