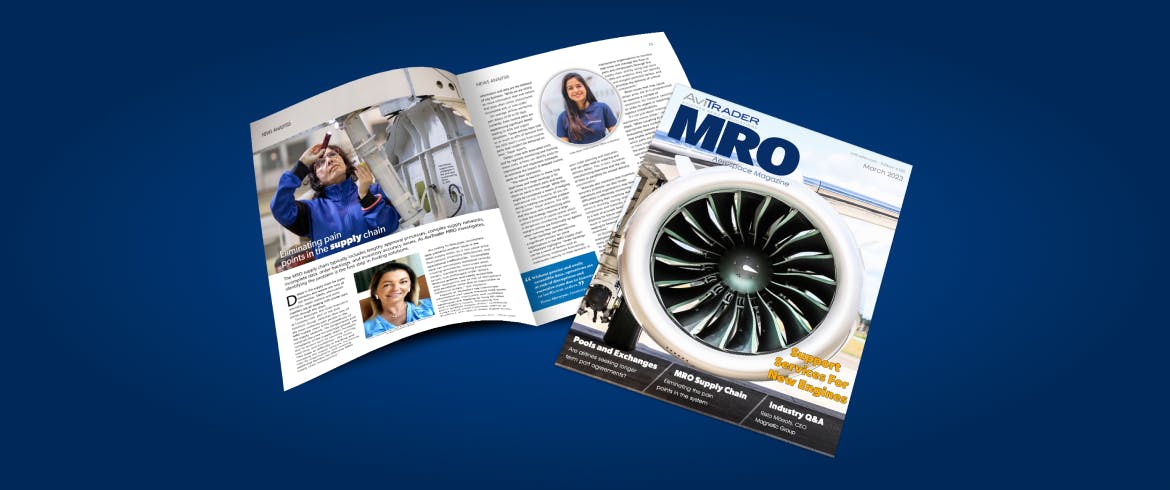 The MRO supply chain typically includes lengthy approval processes, complex supply networks, incomplete data, order backlogs, and inventory accuracy issues.
As AviTrader MRO investigates in the March 2023 issue, identifying the problem is the first step in finding solutions. 
Delays in the supply chain for parts provision and repairs are now all too familiar. MROs, aftermarket specialists, repair stations, and parts suppliers are all dealing with similar pain points through the chain.
Experts at SkySelect say inaccurate information can cause massive lead times – "specifically, inaccurate and outdated catalogues are leading to long fill rates and reliability issues, disrupting the entire aviation supply chain," comments Tulika Dayal, Chief Customer Officer at SkySelect. 
She says in these digital times, information and data are the lifeblood of any business. "While we are sitting on more information than ever before, that data often comes unstructured, incomplete and, or inaccurate."
On average, airlines are facing part delays of 60 to 90 days, currently. Even routine parts are experiencing significant delays leading to AOG and urgent situations. "Some airlines have told us as much as 40% of demand from the AOG team's come from routine parts that couldn't be delivered on time," Dayal reports. 
Delays come with associated costs and by regularly monitoring and tracking these costs, airlines can identify areas for improvement and implement strategies to minimise the impact of delayed routine parts on their operations.
"The natural reaction to these long lead times and huge backlogs is for an airline to overstock parts and keep them on hand in the hangar. While this might be considered a means of hedging operational risk, in essence, all you are doing is trading one potential problem for another," Dayal reckons. She adds that the issue with overstocking parts is that the strategy requires a large upfront amount of capital spend, which is dangerous considering the razor-thin margins airlines are historically up against when running their operations.
At SkySelect, they believe, Artificial Intelligence (AI) is the key to unlocking many of these supply chain quandaries. "AI ensures that routine parts are delivered on time and at a good price point by running advanced algorithms in the background," Dayal points out. In order to do this, she explains that the maximum amount of quotes are collected automatically, ensuring that all business requirements are met, including lead times, part conditions, locations, shipping costs, and any other parameters that must be considered.
"This technology can help airlines and maintenance organisations to monitor lead times and manage the flow of parts and components through the supply chain, and by using real-time data and analytics, they can identify and mitigate potential delays, and prioritise the delivery of critical components."
When issues that may cause delays arise, the AI is programmed to resource a number of resolutions, for instance, switching an order to urgent or resolving logistics complications.
"It's not just about making reactionary moves either," comments Dayal. "When coupling AI with appropriate data models, powerful forecasting features can be leveraged that enable airlines to see the trends of which parts are drying up in the market, or have longer lead times, and pre-stock the parts before the parts can impact the operations."
Within these models, SkySelect state a multitude of data points are ingested to build an accurate forecast, including historical consumption figures and current market metrics such as parts availability and costs. "This way, airlines can not only keep up with the market, but get and stay ahead of the game," Dayal states.
MRO supply chain management is critical for the effective operation of any organisation, as it involves the restocking of production materials, spare components, and consumables, but yet challenges in such processes are unavoidable.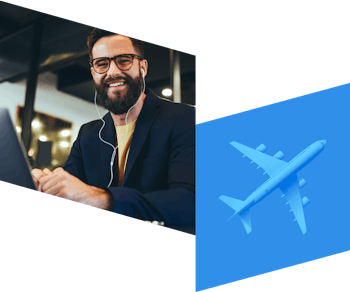 Digitize Your Aircraft Material Procurement
Take Control of Your Supply Chain – on Your Terms
Choose the service level you currently need and scale up and down as needed. You'll pay for everything your aircraft material procurement process needs and nothing it doesn't – no risky contracts and frivolous add-ons.