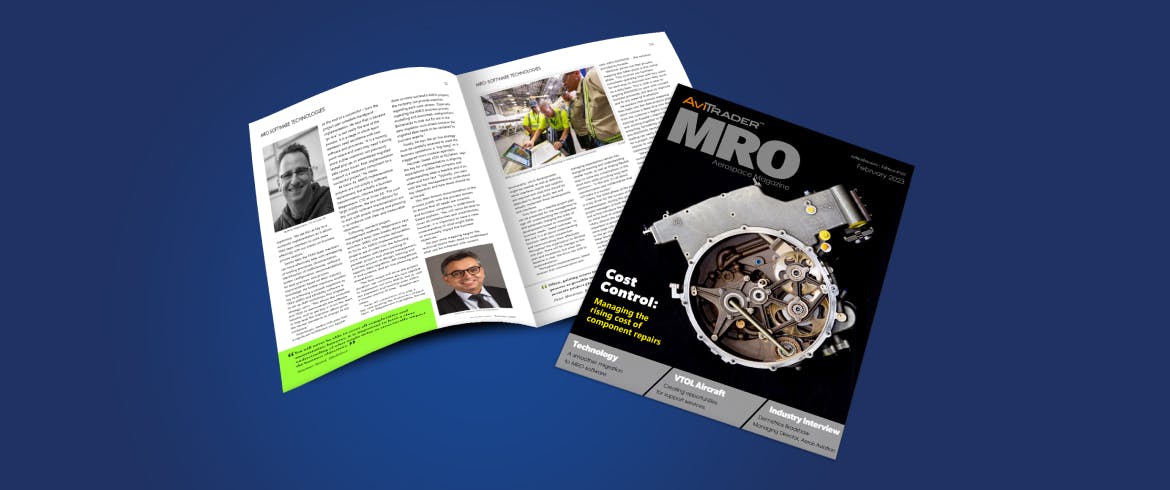 We examine the key implementation steps and procedures that ensure airlines achieve a smooth migration to MRO software technologies and highlight the unique challenges involved in developing safety-critical processes.
As featured in AviTrader MRO Aerospace Magazine February 2023 issue.
Our COO, Nauman Saeed, chatted with Keith Mwanalushi from AviTrader about how planning is critical for effective software migration.
Nauman Saeed, COO at SkySelect, says the key to implementation is aligning expectations within the company and understanding what is feasible and, if so, when and how fast. "Typically, you start with the top management to understand key objectives and how these should be achieved."
This then follows documentation of the process jointly with the process owners to ensure that all needs are covered and business complexity is understood, Saeed explains. "You will never be able to cover all complexities and uncertainties; however, it is important to have a clear understanding of what might delay or structurally impact the business objectives."
He says once mapping begins, the technical teams then need to understand what can be achieved with current functionality, which developments might be needed, as well as defining which interfaces (inputs and outputs) are required and what time should be dedicated to design, build, test and actually implement these developments and interfaces.
"Only then can a feasible project plan can be presented for top management to sign off, understanding the complexities and potentially changing the order of developments based on immediate business needs," Saeed continues. "In the end, it is all about understanding business needs and complexities and communicating them effectively throughout the organization to develop one plan. There will be changes to this plan and escalations, but when the baseline is clear, the focus can shift to implementation."
Throughout implementation, Saeed stresses that communication and managing expectations remain key, alongside training and understanding smaller issues, as well as finding flexible ways to solve any complications in the short term while providing long-term solutions – "In the end, it's all about communication and collaboration that will make it a success." 
Developing safety-critical MRO software
Saeed at SkySelect reminds us that it can be difficult to look back and answer the who, what, when, and where of aircraft parts procurement, especially when operations are constantly moving and changing in real-time. "First and foremost — and rightfully so — there is a lot of compliance that needs to be followed to ensure flight safety. These compliance obstacles are challenging and hinder the efficiency and profitability of airlines and MROs."
To combat these challenges, Saeed feels the aircraft parts supply chain needs a system that can easily answer any questions about a specific part. He says the purchaser should be assured that all the right suppliers were invited, can understand when and how challenges were solved, and know everything about the part their company is acquiring.
"Even in 2022, far too much of the process and information of buying and selling aircraft material is done offline," Saeed suggests. "This makes it extremely difficult to track and find information critical to compliance and safety. The quickest way to compliance and transparency is moving from a manual, paper-based system to a modern digital process."
Read the full article on MRO Technologies published on AviTrader MRO Aerospace Magazine starting from page 14.